How to Schedule an Appointment for Spay/Neuter
Due to our high demand of our affordable services, we are now booking month to month. We have created one day a month called "OPEN BOOKING DAY" that is dedicated to receiving voicemails for scheduling spay/neuter appointments for the following month. Calls are returned in the order in which we receive them. Each month this date changes, so please check our calendar online and on FACEBOOK.
"OPEN BOOKING DAY" begins at 8am sharp
Be advised we only have one phone line, so if it is busy – keep trying! (some people have called 174 times before they got through!)
You must call (760) 366-1100 and leave a message on Option #4 – all voicemails will be returned within 1-5 business days
Once we receive 250 voicemails we stop accepting further appointment requests
Voicemails left before 8am will NOT be answered 
First call, first served until all spots are full
Only 2 appointments per household per month
Email and Facebook messages for appointment requests will NOT be honored
Please be advised due to our clinic restrictions and limitations some appointment types fill up faster than others – example: large female dog spots fill up faster than male cats
You may call our office at anytime for further information or instructions about "OPEN BOOKING DAYS". 
STANDBY IS NOT A GUARANTEE!!
Standby is another option, and can sometimes be a faster option, to get your pet spayed/neutered if you do NOT have an appointment. We like to compare standby to the airlines. When someone doesn't show up for their appointment, we can get someone in as a standby. Whatever the pet that canceled is, that is what we can replace the spot with. Example: if a female cat cancels, we can fill that spot with another female cat.
To get on our standby list:
Standby is when you show up at our clinic location at 8am 
Check our Calendar for dates and locations
Make sure your pet is with you and doesn't have food or water after midnight the night before the clinic
Do NOT leave the premise, you will know by 9:15am if we can get your pet in for surgery
We can NOT control when people show up to attempt standby. We have seen lines start forming as early as 7am
STANDBY IS NOT A GUARANTEED APPOINTMENT!
 ANOTHER OPTION FOR PET OWNERS
Another option to get your pet spayed or neutered is to call any full service veterinarian. We have attached a list for you. Keep in mind, these are NOT low cost. They may or may not have financial assistance available, you will need to call and ask them.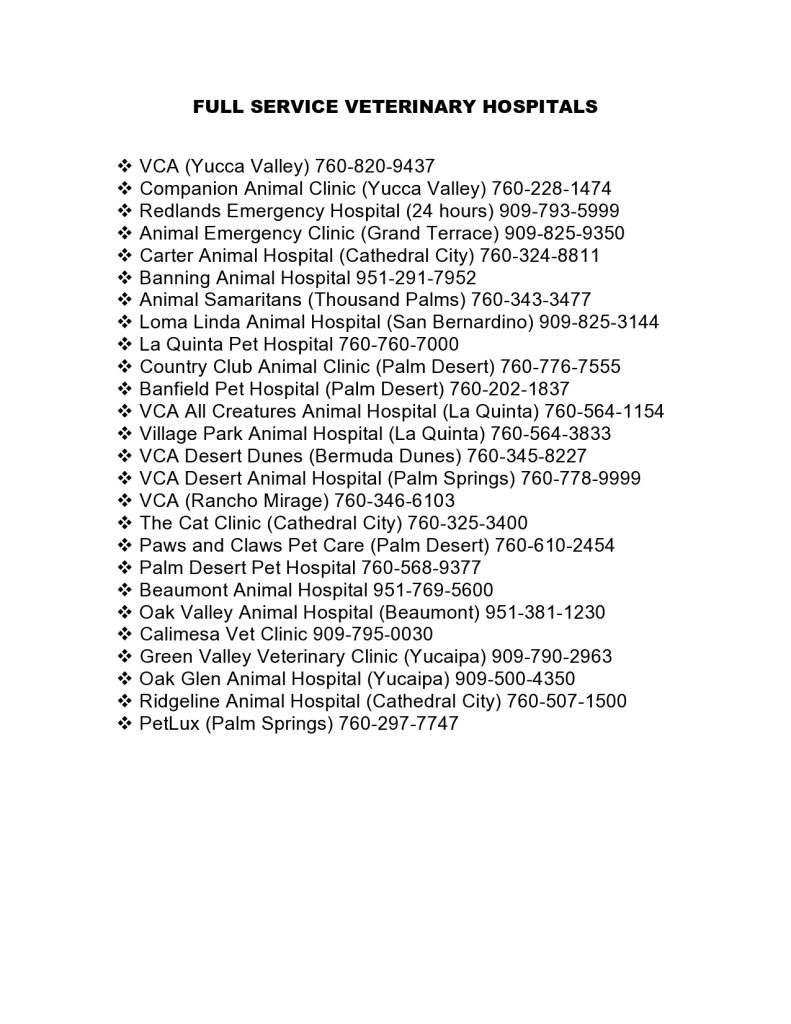 Pets We Will NOT Spay/Neuter:
Pure-bred English, French Bull Dogs, Pugs, Boston Terriers or Pekingese
Great Danes over 4 months old
Female Dogs over 80 lbs
Male Dogs over 90 lbs
Crypt Orchid (only one testicle)
Bilateral Crypt (no testicles dropped)
Dogs 9 years old and over 40 lbs
Dogs or cats over 11 years old and under 40 lbs
History of seizures
Neurological Issues
Any type of heart murmur
Prior abdominal surgeries on female dogs
If your pet is unhealthy